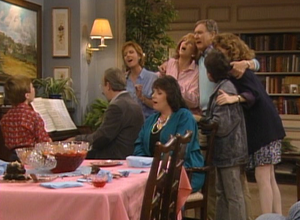 A song that Dorothy requests for Willie to play on the piano as everyone sings.
Casey would waltz
With the strawberry blonde
And the band played on.
He'd glide 'cross the floor
With the girl he'd adore
And the band played on.
But his brain was so loaded
It nearly exploded
The poor girl
Would shake with alarm
He'd ne'er leave the girl
With the strawberry curl
And the band played on.
Ad blocker interference detected!
Wikia is a free-to-use site that makes money from advertising. We have a modified experience for viewers using ad blockers

Wikia is not accessible if you've made further modifications. Remove the custom ad blocker rule(s) and the page will load as expected.