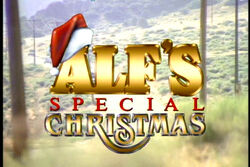 ALF's Special Christmas (Part 1) is the twelfth episode of ALF's second season. It originally aired on December 14, 1987.
Plot Summary
Edit
ALF and the Tanners prepare to spend Christmas in a mountain cabin. When the owner, Mr. Foley, comes to visit them, ALF accidentally jumps into his trunk and is taken to a hospital. Disguised as a toy, ALF finds himself given away as a Christmas gift to a little girl.
Ad blocker interference detected!
Wikia is a free-to-use site that makes money from advertising. We have a modified experience for viewers using ad blockers

Wikia is not accessible if you've made further modifications. Remove the custom ad blocker rule(s) and the page will load as expected.