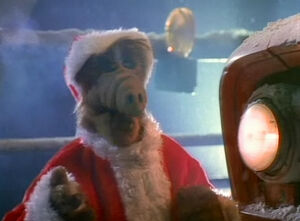 ALF's Special Christmas (Part 2)
is the thirteenth episode of
ALF
's
second season
. It originally aired on December 14, 1987.
Plot Summary
Edit
ALF tries to escape from the hospital but ends up stuck in an elevator with a woman in labor. After helping the woman to give birth and eating her baby, ALF pretends to be a toy and Mr. Foley puts him back in the trunk and they drive away. When Mr. Foley is about to jump off a bridge, ALF disguises himself as Santa and convinces Mr. Foley to drive back to the cabin, where ALF is reunited with the Tanners. It is unknown what becomes of Mr. Foley.
Ad blocker interference detected!
Wikia is a free-to-use site that makes money from advertising. We have a modified experience for viewers using ad blockers

Wikia is not accessible if you've made further modifications. Remove the custom ad blocker rule(s) and the page will load as expected.