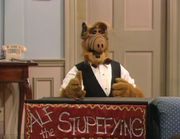 This is the stage name the ALF uses when he tries his hand at magic. ALF has terrible luck when he tries his hand at magic, destroying Willie's watch and a twenty dollar bill. Later, he is about to give up magic when Brian convinces him to give it one last shot. He puts Brian in his magic box and makes him disappear. When he tries to make him reappear, a bunny appears in his place. ALF is afraid that he has actually transformed Brian into a rabbit. It turns out that Brian was only hiding to make ALF think he had made him disappear.
Ad blocker interference detected!
Wikia is a free-to-use site that makes money from advertising. We have a modified experience for viewers using ad blockers

Wikia is not accessible if you've made further modifications. Remove the custom ad blocker rule(s) and the page will load as expected.