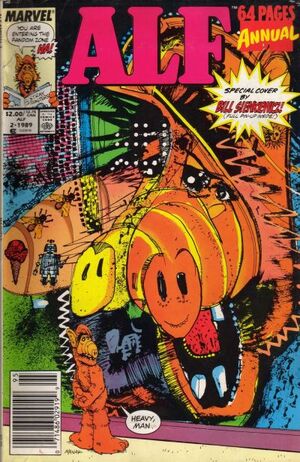 ALF Annual 1 | ALF Annual 2 | ALF Annual 3
ALF Annual 2 came out in 1989 and contains the following stories:
Story 1 - "Bad Day at Blackout"
Story 2 - "Brother, Can You Spare a Slime?"
Story 3 - "Interview with the Hampire!"
Story 4 - "Going Up!"
Story 5 - "Getting His Just Desert!"
Story 6 - "Going, Going, Gonzo!"
Story 7 - "Oh, Baby!"
Ad blocker interference detected!
Wikia is a free-to-use site that makes money from advertising. We have a modified experience for viewers using ad blockers

Wikia is not accessible if you've made further modifications. Remove the custom ad blocker rule(s) and the page will load as expected.