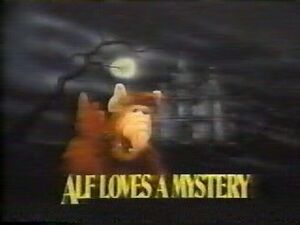 In 1987, the characters of ALF and Brian appeared on an NBC special entitled ALF Loves a Mystery in which ALF uses his computer to create a story where Brian is a gumshoe that is called to explore an old mansion to find a hidden treasure. Clues were given by the stars of the NBC Saturday morning line-up, while conveniently showing a short preview for each show.
The special starred: ALF - ALF Shannen Doherty - Our House Stephen Furst - St. Elswhere Benji Gregory - ALF Jackee - 227 Danny Ponce - Valerie's Family Douglas Seale - Rags to Riches Betty White - The Golden Girls Mary Wickes Heidi Ziegler - Rags to Riches
Ad blocker interference detected!
Wikia is a free-to-use site that makes money from advertising. We have a modified experience for viewers using ad blockers

Wikia is not accessible if you've made further modifications. Remove the custom ad blocker rule(s) and the page will load as expected.