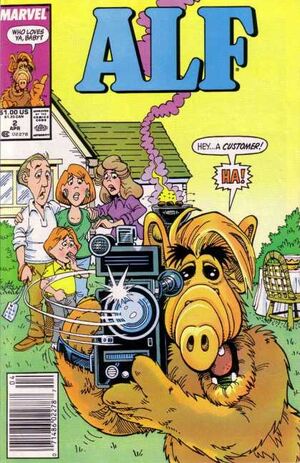 ALF comic 1 | ALF comic 2 | ALF comic 3
ALF comic 2 came out in April 1988 and contains the following three stories:
Story 1 - "All's Fair" - Brian is trying to decide what to do for his upcoming science fair, when ALF gets the idea of loaning him his anit-gravity belt, which he takes the liberty to slip into his book bag. When his teacher Dr. Kedron sees the anti-gravity belt, he schemes to pilfer it from Brian in hopes of winning a Nobel Prize. To save the situation, ALF and Brian sneak into school after hours to retrieve the belt.
Story 2 - "All My Life's a Cycle" - ALF reminisces about the time that he went undercover to break up a vicious motorcycle gang known as the Mell's Angels. He has to play a vicious gang of jacks with their leader Huge Harley to gain control of the gang and ultimately gets the gang to pursue cooking instead of crime.
Story 3 - "Jungle Love" - When the Tanner family visits Jungle Trails and sees the leopards and tigers, ALF goes into a Melmacian feeding frenzy and tries to eat the big cats. Willie has to take action and snap ALF out of his frenzy before the park rangers can attempt to shoot him.
Ad blocker interference detected!
Wikia is a free-to-use site that makes money from advertising. We have a modified experience for viewers using ad blockers

Wikia is not accessible if you've made further modifications. Remove the custom ad blocker rule(s) and the page will load as expected.