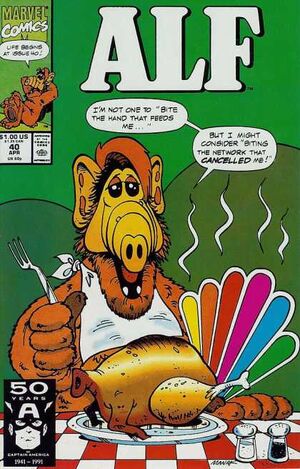 ALF comic 39 | ALF comic 40 | ALF comic 41
ALF comic 40 came out in April 1991 and contains the following two stories:
Story 1 - "Leprechaun Job!"
Story 2 - "That's the Way the Cookie Crumbles"
The cover of this issue depicts ALF eating the NBC peacock, as the ALF (TV series) had just been cancelled by the network.
Ad blocker interference detected!
Wikia is a free-to-use site that makes money from advertising. We have a modified experience for viewers using ad blockers

Wikia is not accessible if you've made further modifications. Remove the custom ad blocker rule(s) and the page will load as expected.