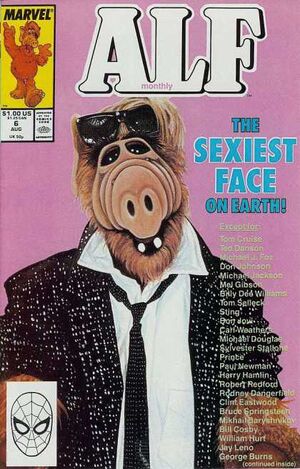 ALF comic 5 | ALF comic 6 | ALF comic 7
ALF comic 6 came out in August 1988 and contains the following three stories:
Story 1 - "Be of Good Cheer!"
Story 2 - "That's the Ticket"
Story 3 - "Hair Today, Gone Tomorrow!"
Trivia: The list of 25 exceptions to the statement "ALF: the sexiest face on earth!" on the cover is continued on p. 21 with 136 additional names, including Yakov Smirnof, Andre the Giant, and Kermit the Frog, to name a few. The list ends with "to be continued in future issues . . . ."
Ad blocker interference detected!
Wikia is a free-to-use site that makes money from advertising. We have a modified experience for viewers using ad blockers

Wikia is not accessible if you've made further modifications. Remove the custom ad blocker rule(s) and the page will load as expected.