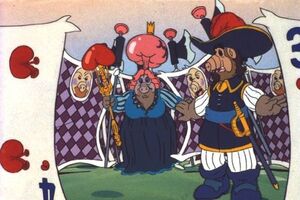 Previous Episode | Next Episode
In this ALF Tales episode, ALF and his friends retell the story of Alice in Wonderland.
Alice's Adventures in Wonderland is an 1865 novel by English author Charles Lutwidge Dodgson under the pen name Lewis Carroll.
Ad blocker interference detected!
Wikia is a free-to-use site that makes money from advertising. We have a modified experience for viewers using ad blockers

Wikia is not accessible if you've made further modifications. Remove the custom ad blocker rule(s) and the page will load as expected.