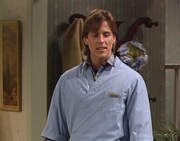 Ben is a worker at the Sunset Villa retirement home. Instead of working, he is more often found wooing his girlfriend on the premises of the home. He refers to this as "studying." Jack, one of the residents of Sunset Villa, claims that after the operation, there is a chance that he will be able to "study" again.
Ad blocker interference detected!
Wikia is a free-to-use site that makes money from advertising. We have a modified experience for viewers using ad blockers

Wikia is not accessible if you've made further modifications. Remove the custom ad blocker rule(s) and the page will load as expected.