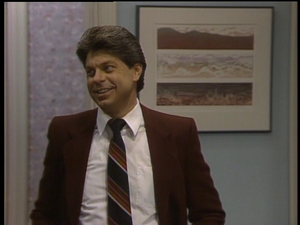 Bill Lowman is a sales manager at Rancho Estates.
The Ochmoneks convince the tanners to take a trip to Rancho Estates to enjoy a free stay in exchange for a time share sales pitch. Bill Lowman goes in for the hard sell, immediately playing a film strip advertising the time share as soon as the Tanners get to their room. The Tanners ask him to come back later after they discover that ALF stowed away in a suitcase. Lowman follows the family around in a golf cart.
He is very greedy and desires as much profit as possible, as bothering the Tanners. He showed a slide show for the Tanners to watch an advertisement to live at Rancho Estates, where the Tanners were temporarily staying on their vacation with the Ochmoneks. He wanted Lynn to tell Willie that she wants to stay at Rancho Estates and play tennis, which Lowman stated Lynn is terrific at. Willie ordered Lowman to stop bothering Lynn, so Lowman tries to digress and announces an upcoming presentation. Lowman claims that he is concerned several people at Rancho Estates come back only for the free Roman shellfish. In the end, he is unable to get his desires of getting paid by the Tanners since they were kicked out. (Episode: Come Fly With Me)
Trivia: Willie Lowman is the name of the protagonist in the play Death of a Salesman.
Ad blocker interference detected!
Wikia is a free-to-use site that makes money from advertising. We have a modified experience for viewers using ad blockers

Wikia is not accessible if you've made further modifications. Remove the custom ad blocker rule(s) and the page will load as expected.