Breaking Up is Hard to Do is the third episode of ALF's third season. It originally aired on Oct. 17, 1988.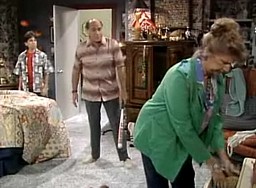 Trevor and Raquel have and argument and Raquel throws Trevor out of the house. Willie offers to let Trevor stay the night and he ends up staying for several days.
Jake is concerned that his new home is falling apart and asks ALF for assistance. ALF is reluctant as he has been warned by Willie to stay out of the Ochmonek's business but Jake convinces him to help anyway.
ALF finds a poem that Trevor wrote for Raquel (which he actually stole from Chicago), and he calls Trevor at the Tanner house and says that a terrorist is holding Raquel hostage and he comes running over. Raquel reads the poem and Trevor and Raquel make up.
Title Reference
Edit
"Breaking Up is Hard to Do" is a song by Chicago.
Ad blocker interference detected!
Wikia is a free-to-use site that makes money from advertising. We have a modified experience for viewers using ad blockers

Wikia is not accessible if you've made further modifications. Remove the custom ad blocker rule(s) and the page will load as expected.