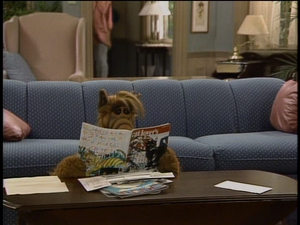 A magazine that ALF subscribes to, but is disappointed in its lack of recipes.
Cats are a favorite cooking ingredient on Melmac. Known cat dishes include chili cat, "El Gato" stew, feline and fries, calico claws, cat tails, whisker omelet, breast of cat, cats Benedict, filet of cat, stir-fried cat, feline mignon, cat fudge sundae, and others.
Ad blocker interference detected!
Wikia is a free-to-use site that makes money from advertising. We have a modified experience for viewers using ad blockers

Wikia is not accessible if you've made further modifications. Remove the custom ad blocker rule(s) and the page will load as expected.