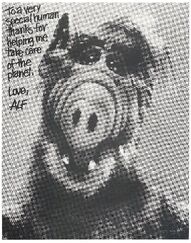 In 1989, ALF appeared on a TV public service announcement for the Department of the Interior in their "Take Pride in America" campaign. A transcript of the announcement is as follows:
ALF: "Yo, ALF here. I'd like to talk to you about your planet. I like it, and you should, too, but a lot of people aren't taking very good care of it. For starters, they're abusing our public lands. They're littering the beaches, vandalizing the parks, trashing the playgrounds, and basically treating the planet like rental property. Frankly, I don't understand it. People like that are running loose and I'm the one that has to hide in the kitchen. Look, folks, public lands are not like pizzas. You just can't pick up the phone and order more. I should know. My planet was really abused. The next thing we knew, it was gone. Public land is our friend. If we don't take care of it, it will be destroyed. You want to help me take care of our public lands, call me. I'll send you all kinds of neat stuff, even a recent photo of myself. Please, let's save the planet. I don't want to have to look for another one!"
Video link
Edit
Ad blocker interference detected!
Wikia is a free-to-use site that makes money from advertising. We have a modified experience for viewers using ad blockers

Wikia is not accessible if you've made further modifications. Remove the custom ad blocker rule(s) and the page will load as expected.