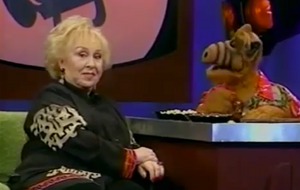 Doris Roberts was a guest on the fifth episode of ALF's Hit Talk Show. Doris Roberts is best known for her role in the sitcom Everybody Loves Raymond. ALF admits that he has a big crush on Doris and believes that the show should be titled, Everybody Loves Doris. During the interview, ALF asks if she would be interested in dating and Doris says that she thinks she would be.
Ad blocker interference detected!
Wikia is a free-to-use site that makes money from advertising. We have a modified experience for viewers using ad blockers

Wikia is not accessible if you've made further modifications. Remove the custom ad blocker rule(s) and the page will load as expected.