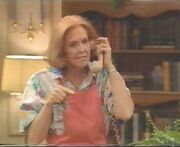 Dorothy, played by Anne Meara, is Kate's mother who is not particularly fond of ALF. Dorothy's husband "Sparky" passed away approximately ten years before the beginning of the show. Dorothy moves in with the Tanners for a while after she has a falling out with her best friend "Crazy" Estelle, whose house she used to live in. Dorothy moves into an apartment near the Tanners, where she meets Whizzer Deaver, who she will eventually marry.
Dorothy enjoys knitting and betting on horse races.
Dorothy's late husband "Sparky" called her "Dodo." "Big Red" is a nickname that Nick "The Fish" Mints uses for her.
Dorothy and Alf have a love-hate relationship. Alf calls her The Wicked Witch of the West (possibly a sly reference to Dorothy Gale from the Movie "The Wizard of Oz"). Dorothy often insults ALF and even threatens to turn him into a rug.