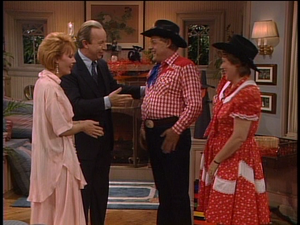 Ed is one of the people that comes to the
Tanner
Halloween party dressed as a cowboy.
His wife Bernice is dressed as a cowgirl. ALF called all of the guests beforehand and told them to wear costumes so that he could attend the party under the name "Gordo" by wearing a zipper on his torso. Bernice is particularly impressed with Gordo's Elvis impersonation.
Ad blocker interference detected!
Wikia is a free-to-use site that makes money from advertising. We have a modified experience for viewers using ad blockers

Wikia is not accessible if you've made further modifications. Remove the custom ad blocker rule(s) and the page will load as expected.