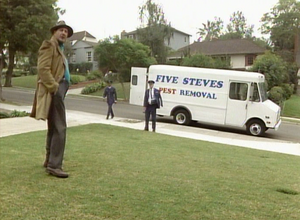 "Five Steves Pest Removal" is painted on the side of the surveillance truck driven by Sergeant Fox, that he uses to investigate Flakey Pete's claim that there is an alien at the Tanner house.
Ad blocker interference detected!
Wikia is a free-to-use site that makes money from advertising. We have a modified experience for viewers using ad blockers

Wikia is not accessible if you've made further modifications. Remove the custom ad blocker rule(s) and the page will load as expected.