A character played by Rick in the story of Robin Hood. He accidentally dress as Little Red Riding Hood at first. His continual blunders prompt ALF to ask if anyone in the audience could fit into a size 7 friar costume.
Also,
Brian Tanner
dresses as Friar Tuck for a school play.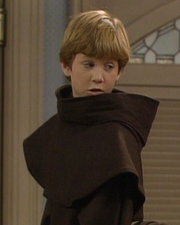 Ad blocker interference detected!
Wikia is a free-to-use site that makes money from advertising. We have a modified experience for viewers using ad blockers

Wikia is not accessible if you've made further modifications. Remove the custom ad blocker rule(s) and the page will load as expected.