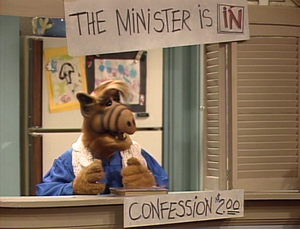 Gimme That Old Time Religion
is the seventeenth episode of
ALF
's
fourth and final season
. It originally aired on Jan. 29, 1990.
Plot Summary
Edit
When ALF realizes that he must become a minister within six months or be cursed to yodel in perpetuity, he has the Tanner family help administer the required tests. The qualifications also require that ALF officiates over a sacred ceremony. He suggests that he officiate a vow renewal for Kate and Willie. Kate initially refuses, but the incessant yodeling causes her to change her mind.
Title Reference
Edit
"(Give Me That) Old Time Religion" is a song by Jim Reeves.
Ad blocker interference detected!
Wikia is a free-to-use site that makes money from advertising. We have a modified experience for viewers using ad blockers

Wikia is not accessible if you've made further modifications. Remove the custom ad blocker rule(s) and the page will load as expected.