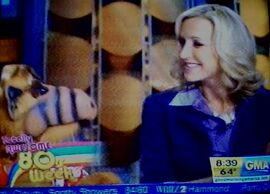 ALF appeared on Good Morning America on October 7, 2011, during "Totally Awesome 80s Week." He appeared for an interview with Lara Spencer that lasted slightly longer than two minutes. After the interview, the other GMA cast members remarked on how naughty ALF was, to which Lara responded, "You should see the outtakes."
Video Clip
Edit
Ad blocker interference detected!
Wikia is a free-to-use site that makes money from advertising. We have a modified experience for viewers using ad blockers

Wikia is not accessible if you've made further modifications. Remove the custom ad blocker rule(s) and the page will load as expected.