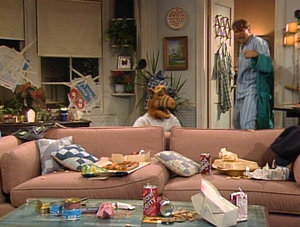 Happy Together
is the eleventh episode of
ALF
's
fourth and final season
. It originally aired on Nov. 27, 1989.
Plot Summary
Edit
When ALF and Willie get into an argument, ALF decides to leave and stay with Neal for a while. Neal is excited about it at first, but soon becomes disenchanted and has to gain the courage to tell ALF that it's time for him to leave.
Title Reference
Edit
"Happy Together" is a song by The Turtles.
Ad blocker interference detected!
Wikia is a free-to-use site that makes money from advertising. We have a modified experience for viewers using ad blockers

Wikia is not accessible if you've made further modifications. Remove the custom ad blocker rule(s) and the page will load as expected.