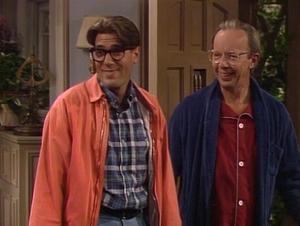 He Ain't Heavy, He's Willie's Brother
is the seventh episode of
ALF
's
fourth and final season
. It originally aired on Oct. 30, 1989.
Plot Summary
Edit
When Willie is trying to comfort Neal on the phone after his divorce, he tells him that he needs to take charge of his life. Neal goes overboard with this advice and quits his job and buys a camper. Neal is soon taken by the FBI to be questioned about the war criminal known as ALF.
Title Reference
Edit
"He Ain't Heavy, He's My Brother" is the name of a song by Bobby Scott and Bob Russell and recorded by Neil Diamond.
Ad blocker interference detected!
Wikia is a free-to-use site that makes money from advertising. We have a modified experience for viewers using ad blockers

Wikia is not accessible if you've made further modifications. Remove the custom ad blocker rule(s) and the page will load as expected.