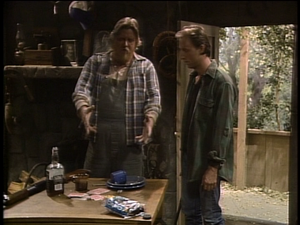 Two unintelligent hunters capture ALF while the Tanner family was on a camping trip. They mistake him for an anteater and are planning to butcher him until Willie pays the hunters a total of $100 to get him back.
They hardly agree on anything, such as what kind of animal is ALF. The boss hunter believed it to be a "weird animal" from Australia while the sidekick hunter thought it was a rare-type of dog.
The boss hunter complains his sidekick hunter is not able to butcher meat because it gets spoiled. This was told when the hunters were planning on butchering ALF. The butch hunter usually takes control of the task instead.
Ad blocker interference detected!
Wikia is a free-to-use site that makes money from advertising. We have a modified experience for viewers using ad blockers

Wikia is not accessible if you've made further modifications. Remove the custom ad blocker rule(s) and the page will load as expected.