I'm Your Puppet
is the twenty-third episode of
ALF
's
second season
. It originally aired on March 21, 1988.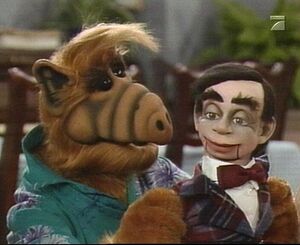 Plot Summary
Edit
ALF's mail-order ventriloquist's dummy takes on a life of its own, and it takes a visit from Dr. Larry to cure him.
Title Reference
Edit
"I'm Your Puppet" is a song recorded by James & Bobby Purify.
Max Wright ... Willie Tanner
Anne Schedeen ... Kate Tanner
Andrea Elson ... Lynn Tanner
Benji Gregory ... Brian Tanner
Bill Daily ... Larry
Fred Goss ... Delivery Man
Paul Fusco ... ALF / Paul (voice) (uncredited)
Alf: Why do we have to run away?
Paul: 'Cause this place is a suburban sing-sing.
Paul: Alf's asleep. You're talkin' to me! *laughs*
Ad blocker interference detected!
Wikia is a free-to-use site that makes money from advertising. We have a modified experience for viewers using ad blockers

Wikia is not accessible if you've made further modifications. Remove the custom ad blocker rule(s) and the page will load as expected.