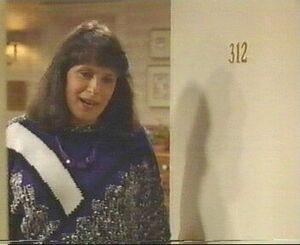 Jody, played by Andrea Covell, was a lonely blind woman that ALF met through a radio talk program. They become good friends, but Jody never finds out that ALF is an alien.
As a cover story, ALF tells Jody that he was briefly married to Cathy Rigby with which he claims to have had twins. A year or so later, Jody came to the Tanner household to keep ALF company and he later joins her in a condo until she gets settled. She also comes over to the Tanners' house during a time when ALF was feeling depressed about being the only Melmacian on Earth.
Jody appears in three episodes:
"We Gotta Get Out of This Place"
Ad blocker interference detected!
Wikia is a free-to-use site that makes money from advertising. We have a modified experience for viewers using ad blockers

Wikia is not accessible if you've made further modifications. Remove the custom ad blocker rule(s) and the page will load as expected.