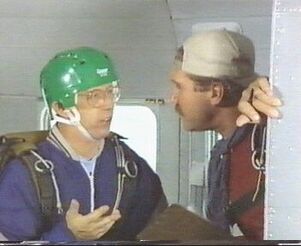 Jump
is the ninth episode of
ALF
's
first season
. It originally aired on Nov. 24, 1986.
Plot Summary
Edit
On his 45th birthday, Willie feels unfulfilled when he sees his list of life goals that he jotted down on the back of a restaurant menu when he and Kate were in college.
One of the goals was to skydive. He had tried when he was younger but chickened out before jumping. Willie has a dream where all of Kate's prior boyfriends and ALF pressure him into jumping.
Willie goes skydiving and at the last minute has second thoughts and tries to tell the man in charge, but since he can't be heard over the plane's engine, he decides to go ahead and jump.
Title Reference
Edit
"Jump" is a song by Van Halen.
Ad blocker interference detected!
Wikia is a free-to-use site that makes money from advertising. We have a modified experience for viewers using ad blockers

Wikia is not accessible if you've made further modifications. Remove the custom ad blocker rule(s) and the page will load as expected.