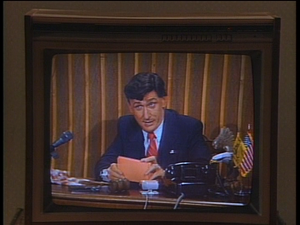 The host of a local telvision talk show. He brings on strange people and ridicules them. He has Raquel Ochmonek on the show after she sees ALF and humiliates her. His puppet sidekick Mr. Cuckoo calls Raquel "cuckoo." ALF calls the show to defend Raquel and gets voted "cuckoo of the week," a title he had earned before. (Episode: "Take a Look at Me Now").
Ad blocker interference detected!
Wikia is a free-to-use site that makes money from advertising. We have a modified experience for viewers using ad blockers

Wikia is not accessible if you've made further modifications. Remove the custom ad blocker rule(s) and the page will load as expected.