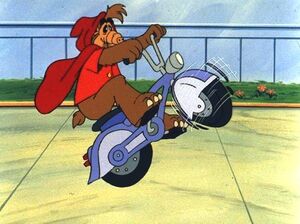 Previous Episode | Next Episode
In this ALF Tales episode, ALF and his friends retell the story of Little Red Riding Hood.
The story of Little Red Riding Hood has a wide and varied history. The tale seems to be present in a number of European cultures, but its exact point of origin is unknown. Charles Perrault and the Brothers Grimm were among the earliest to publish the story in print.
Ad blocker interference detected!
Wikia is a free-to-use site that makes money from advertising. We have a modified experience for viewers using ad blockers

Wikia is not accessible if you've made further modifications. Remove the custom ad blocker rule(s) and the page will load as expected.