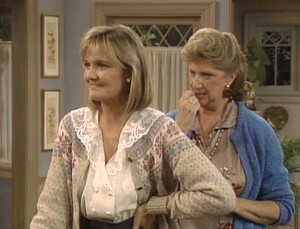 The Litwhack family lives in theTanner's neighborhood. Their house was burglarized around the same time as the Ochmonek's. The Litwhacks own a pool and Mr. Litwhack was once putting together a pool heater in his basement - this was misinterpreted by ALF and Trevor as him constructing an atomic bomb.
Mrs. Litwhack's name is Laverne. She helps Raquel plan a surprise baby shower for Kate. Raquel harshly criticizes her for neglecting to twist the streamers when she hangs them.
Ad blocker interference detected!
Wikia is a free-to-use site that makes money from advertising. We have a modified experience for viewers using ad blockers

Wikia is not accessible if you've made further modifications. Remove the custom ad blocker rule(s) and the page will load as expected.