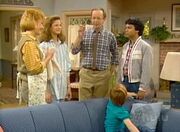 Luis Mancia, played by Phillip Gordon, was the name of a boy that Willie is serving at the and is now the son of Kate and Willie TannerSocial Services Department where he works. He is supposed to put him on a bus to go to his father's farm in Mexico but Willie has second thoughts when he is unable to find Luis' father and brings him home for the night instead.
In the end, it is found out that Luis' father, Fredo Mancia is currently living in Riverside and working in a carpet factory on a work permit it is possible after Alf was discovered Luis was sent to live with the tanner family and became official member of the family becoming Brian's second big brother after Jake
Ad blocker interference detected!
Wikia is a free-to-use site that makes money from advertising. We have a modified experience for viewers using ad blockers

Wikia is not accessible if you've made further modifications. Remove the custom ad blocker rule(s) and the page will load as expected.