Mr. Jim's Chicken and Oyster is the name of a restaurant where Lynn works in the first season when she is trying to save enough money to buy a decent used car (Episode: "Baby, You Can Drive My Car"). Employees wear a feather and shell insignia.
ALF comments that there was a Mr. Jim's Dog and Cat on Melmac, but Mr. Jim was put in prison for substituting hamburger for Collie.
The Tanners don't enjoy the tastes of the box meals. The chicken tastes like fish, while it is unknown what the oyster tastes like.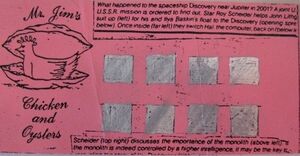 Ad blocker interference detected!
Wikia is a free-to-use site that makes money from advertising. We have a modified experience for viewers using ad blockers

Wikia is not accessible if you've made further modifications. Remove the custom ad blocker rule(s) and the page will load as expected.