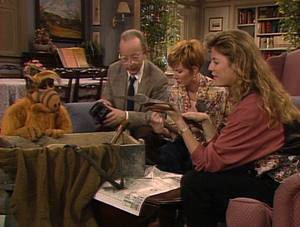 Mr. Sandman
is the twentieth episode of
ALF
's
fourth and final season
. It originally aired on Feb. 19, 1990.
Plot Summary
Edit
Willie's Aunt Pat leaves him some of his great-grandfather Silas Tanner's mining equipment. They find a treasure map in the canteen and Willie and ALF decide to go to Death Valley in search of the treasure.
Shortly after they the family leaves them in the desert, Willie discovers that ALF has drank all of the water. Fortunately, after ALF digs for the treasure they find that Silas Tanner was concealing a well.
Title Reference
Edit
"Mr. Sandman" is a song by Pat Ballard, recorded by The Chordettes.
Ad blocker interference detected!
Wikia is a free-to-use site that makes money from advertising. We have a modified experience for viewers using ad blockers

Wikia is not accessible if you've made further modifications. Remove the custom ad blocker rule(s) and the page will load as expected.