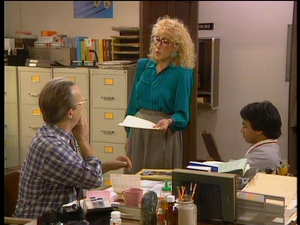 Ms. Wine, played by Diane Cary, was one of Willie's co-workers at the Social Services Department of Los Angeles County.
Mrs. Wine assists Willie in finding Luis Mancia's father Fredo Mancia, so that they can get Luis a bus ticket to return to San Felipe, Mexico. They end up locating Fredo Mancia through an ex-boyfriend of Ms. Wine, who apparently still had her record albums from back when they were dating.
Ad blocker interference detected!
Wikia is a free-to-use site that makes money from advertising. We have a modified experience for viewers using ad blockers

Wikia is not accessible if you've made further modifications. Remove the custom ad blocker rule(s) and the page will load as expected.