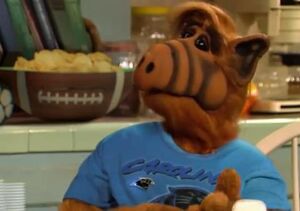 ALF appeared in a brief clip in an NFL ad first aired during Superbowl XLV. ALF is wearing a Carolina Panthers shirt and a football bowl with chips is visible in the background. It is unknown whether this clip was shot for the commercial or whether photo editing was done on a clip from the original show. The clip could not have appeared in its present form during an ALF episode since the Carolina Panthers were not added to the NFL until 1995.
Ad blocker interference detected!
Wikia is a free-to-use site that makes money from advertising. We have a modified experience for viewers using ad blockers

Wikia is not accessible if you've made further modifications. Remove the custom ad blocker rule(s) and the page will load as expected.