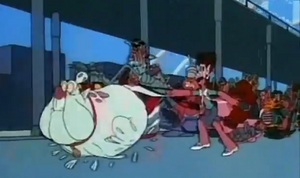 Previous Episode | Next Episode
Season 1, Episode 10 of ALF: The Animated Series.
When Neep runs past a motorcycle gang led by the nefarious Snake, Gordon realizes that Neep has what it takes to compete in dog races. Gordon convinces Snake and his cronies to invest the money for Neep to compete. Neep wins the race, but Gordon, Skip, Rick, and Neep must run away when Gordon crashes into the gang's motorcycles at the end of the race.
Ad blocker interference detected!
Wikia is a free-to-use site that makes money from advertising. We have a modified experience for viewers using ad blockers

Wikia is not accessible if you've made further modifications. Remove the custom ad blocker rule(s) and the page will load as expected.