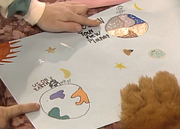 When Skip and Rhonda contact ALF using Melmacian code, they inform him that they have purchased a planet in a foreclosure and plan to build a new Melmac. ALF agrees to go with them, but he is captured by the Alien Task Force before they are able to pick him up (episode: "Consider Me Gone").
Ad blocker interference detected!
Wikia is a free-to-use site that makes money from advertising. We have a modified experience for viewers using ad blockers

Wikia is not accessible if you've made further modifications. Remove the custom ad blocker rule(s) and the page will load as expected.