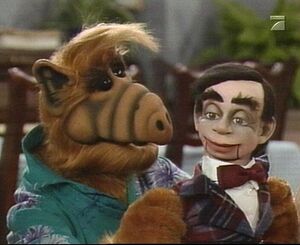 Paul is the name that ALF gives to his ventriloquist dummy. Apparently "Paul" and "son of a Paul" are derogtory terms on Melmac. ALF projects negative emotions through Paul, and Dr. Larry Dykstra is called in to alleviate the situation.
Paul is named after Paul Fusco, the voice actor of ALF who also was the principal controller for the puppet used to portray ALF, and one of the two creators of the show.
Ad blocker interference detected!
Wikia is a free-to-use site that makes money from advertising. We have a modified experience for viewers using ad blockers

Wikia is not accessible if you've made further modifications. Remove the custom ad blocker rule(s) and the page will load as expected.