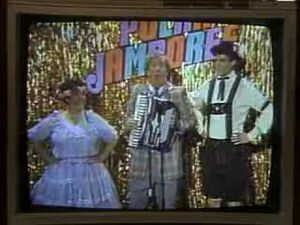 Polka Jamboree was a television show that ALF and Trevor Ochmonek enjoyed. Trevor described the show as a "Slavic Soultrain." To prevent its cancellation, ALF connects the Thompson People Log to his spaceship and shifts it into sideways. He then contacts a large number of people in the phonebook and asks them to watch Polka Jamboree and assigns each person on a number on the box. This results in Polka Jamboree reaching number 1. Afterwards, ALF tried to start a perfectly legal letter writing campaign to save the show (Episode: "Prime Time").
Ad blocker interference detected!
Wikia is a free-to-use site that makes money from advertising. We have a modified experience for viewers using ad blockers

Wikia is not accessible if you've made further modifications. Remove the custom ad blocker rule(s) and the page will load as expected.