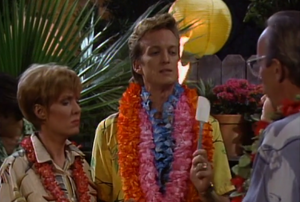 Rex Savage is a caterer hired by the Tanners to plan their luau. His assistant's name is Robert Sherwood. ALF tries to get some of Rex's pig before all the guests eat it without exposing himself, which proves difficult.
It is strongly implied that Rex is a homosexual, and that James (who he claims is his pastry chef) is actually his partner or ex-partner.
Ad blocker interference detected!
Wikia is a free-to-use site that makes money from advertising. We have a modified experience for viewers using ad blockers

Wikia is not accessible if you've made further modifications. Remove the custom ad blocker rule(s) and the page will load as expected.