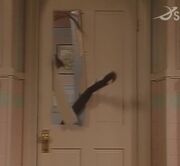 Rodney was a Melmacian Cockroach that escaped to planet Earth in ALF's spaceship. ALF and Brian named him after Willie's brother.
Although in the beginning Rodney was small and relatively harmless, exposure to certain chemicals found in Earth bug sprays caused him to grow to the size of a Human and become very dangerous. After many failed attempts that only resulted in Rodney growing larger and larger, ALF finally managed to kill the creature using Kate's perfume.
Ad blocker interference detected!
Wikia is a free-to-use site that makes money from advertising. We have a modified experience for viewers using ad blockers

Wikia is not accessible if you've made further modifications. Remove the custom ad blocker rule(s) and the page will load as expected.