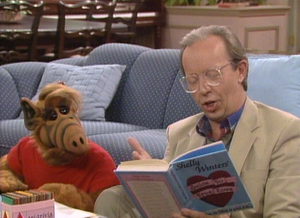 Shelly Winters' Guide to True Love is a book that ALF buys for Lynn when she is upset about her breakup with Lloyd. Chapter 1 is entitled "Love is Like a Pizza." Willie thinks this is ridiculous but ALF finds it brilliant and reads passages from it to Lynn in the attempt to help her get over Lloyd. Shelly Winters was an American actress and two-time Academy Award winner.
Ad blocker interference detected!
Wikia is a free-to-use site that makes money from advertising. We have a modified experience for viewers using ad blockers

Wikia is not accessible if you've made further modifications. Remove the custom ad blocker rule(s) and the page will load as expected.