Something's Wrong With Me
is the eighth episode of
ALF
's
second season
. It originally aired on November 9, 1987.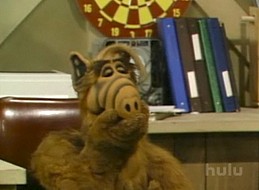 Plot Summary
Edit
ALF gets a severe case of hiccups after being excluded from Dorothy and Whizzer's wedding party. According to Melmacian medicine there are two cures: fresh Cat juice and something so disgusting that ALF does not want to mention it. In order to save the wedding, the Tanners try to give him fake Cat juice.
ALF: Traditions are like plates: they're made to be broken.
Willie: Say what's this?
ALF: Oh, that's just nuclear waste for my spaceship. Hey, don't worry. Life on this planet will exist as long as that little lid doesn't pop off.
(The lid has come off. Willie is terrified)
ALF: (looking inside) Oh, wait a minute. These are my crayons.
Title Reference
Edit
"Something's Wrong With Me" was a 1972 Austin Roberts song.
Ad blocker interference detected!
Wikia is a free-to-use site that makes money from advertising. We have a modified experience for viewers using ad blockers

Wikia is not accessible if you've made further modifications. Remove the custom ad blocker rule(s) and the page will load as expected.