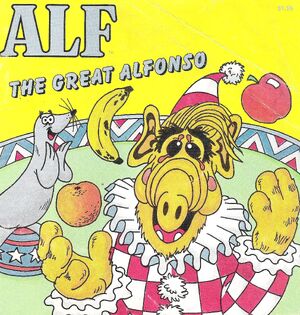 The Great Alfonso is a children's book about ALF by Roxanne Ruth-Stephens and illustrated by Eldon Doty (cover by Ken Kimmelman). It was published by Checkerboard Press in 1987.
When the Tanners leave ALF at home to go to the circus, ALF decides to get there by his own means. When he arrives he is mistaken for the substitute clown and ends up becoming part of the show, inventing the stage name "The Great Alfonso."
Ad blocker interference detected!
Wikia is a free-to-use site that makes money from advertising. We have a modified experience for viewers using ad blockers

Wikia is not accessible if you've made further modifications. Remove the custom ad blocker rule(s) and the page will load as expected.