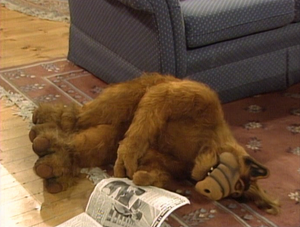 A tabloid that ALF reads. He thinks he has found his cousin Blinky when he reads an article describing a couple in Barstow that claims to have a space alien that likes to eat cats, frozen yogurt, and light bulbs. It turns out that Betty Susla actually has a German Shepherd to which she has attached antennae (Episode: "Alone Again, Naturally").
ALF later writes letters to The National Inquisitor in order to correct its misinformation and they come by to interview him personally (Episode: "Lies").
Ad blocker interference detected!
Wikia is a free-to-use site that makes money from advertising. We have a modified experience for viewers using ad blockers

Wikia is not accessible if you've made further modifications. Remove the custom ad blocker rule(s) and the page will load as expected.