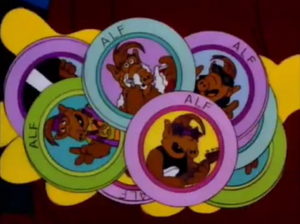 ALF is mentioned more than once on The Simpsons and has appears in one episode and is referenced in several others.
Season 7, Episode 4 - "Bart Sells His Soul" - Millhouse sells Bart's soul for ALF pogs.
Season 8, Episode 10 - "The Springfield Files" - ALF appears in a police lineup with several other aliens.
Season 10, Episode 9 - "Mayored to the Mob" - ALF appears at the Bi-Mon-Sci-Fi-Con.
Ad blocker interference detected!
Wikia is a free-to-use site that makes money from advertising. We have a modified experience for viewers using ad blockers

Wikia is not accessible if you've made further modifications. Remove the custom ad blocker rule(s) and the page will load as expected.