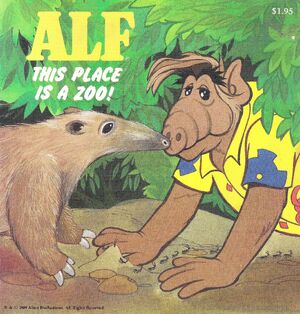 This Place is a Zoo! is the name of an ALF chilrdren's book written by Robert Loren Fleming and illustrated by Emily Kong and Karin Williams. It was published by Checkerboard Press in 1989.
ALF is mistaken for Otto, a runaway anteater, and is taken back to the zoo by mistake. There he is put in a cage with the amorous anteater Esmerelda until the Tanners discover the mix-up and come to rescue him.
Ad blocker interference detected!
Wikia is a free-to-use site that makes money from advertising. We have a modified experience for viewers using ad blockers

Wikia is not accessible if you've made further modifications. Remove the custom ad blocker rule(s) and the page will load as expected.