You Ain't Nothing But a Hound Dog
is the twentieth episode of
ALF
's
second season
. It originally aired on February 29, 1988.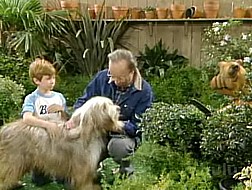 Plot Summary
Edit
ALF, jealous of the attention a stray dog is getting, gives the pooch to a mean old woman who claims to be the owner.
Title Reference
Edit
"Hound Dog" is a song by Lieber and Stoller that was a hit song for Elvis Presley.
Ad blocker interference detected!
Wikia is a free-to-use site that makes money from advertising. We have a modified experience for viewers using ad blockers

Wikia is not accessible if you've made further modifications. Remove the custom ad blocker rule(s) and the page will load as expected.